Have you thought about live-streaming your lectures? Have you heard about Periscope? it is a great tool, you should check it out. Today I took a giant personal leap in my lecturing career and streamed one of my lectures at Laurea UAS using the Periscope -app. We had 70 viewers from all around the globe. Thanks to all the supporters. Fantastic!
Please find the unedited "Digital Strategy" -lecture by Ilkka Kurkela – 22.10.2015. (approx 1 hour)
The interaction with the audience was very inspiring and many of the followers posted their thoughts at Twitter using #DigiSmallTalk -hashtag. Some of my absolute favorites are these:
Thanks @IlkkaKurkela for the lecture 🙂 Periscope livevideo worked well. Waiting for more of these. #digismalltalk pic.twitter.com/YN6XGSHgEJ

— Sari Hurme-Mehtälä (@sariirene) October 22, 2015
Nykyaikaa: Tunti streamataan #Periscope'n kautta. #Digismalltalk #Laurea

— Kasper Kontola (@KasperKontola) October 22, 2015
5 tips to use Periscope in Education
Based on this experience earlier I came up with these tips for everyone interested in livestreaming:
1. Be ready to face your fears, believe and have the courage in you
2. Respect the audience and build interaction
3. Share the word that you are streaming live to get people onboard
4. Learn by doing: you will learn in the process
5. Study and read articles about webinars and live streaming to learn from the best
3 informative resources how to use Periscope:
– Easy guide to the Periscope Video Streaming App
– An introduction to using Periscope for live streaming video content (video)
– 5 Quick Tips for Using Periscope, Twitter's Live Video Streaming App
Thanks for reading. Wishing you the best experiences in live-streaming!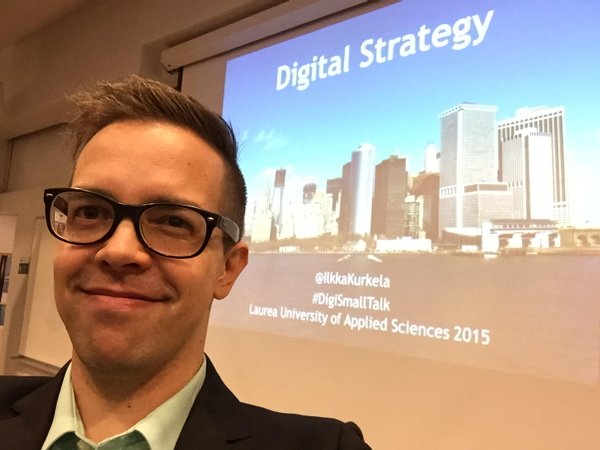 —
The lecture was part of our Digital Business -study module at Laurea University of Applied Sciences. Please check our Facebook page for more information.